News
Prostate Cancer Survivorship Programme Starts at the Freeman Hospital
Friday 17th April 2015
More people today are surviving prostate cancer than ever before thanks to advances in detection, diagnosis and treatment. There is now increasing recognition that men's prostate cancer experience extends after treatment with many men and their partners having ongoing issues and needs, which are not addressed by conventional follow up.
Patients with prostate cancer attending the Freeman hospital have been able to benefit from state of the art treatments and access to cutting edge clinical trials. Newcastle Urology at the Freeman Hospital has prioritised prostate cancer survivorship as an important augmentation of their service after being granted funding by Prostate Cancer UK.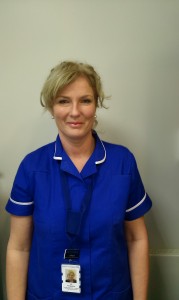 Sister Jill Ferguson has been appointed as a Prostate Cancer UK Survivorship nurse specialist and started in her role in January. Jill has worked with Mr Jonathan Aning, Consultant Urological Surgeon to develop a comprehensive survivorship programme which all men treated for prostate cancer at the Freeman will be able to access. Jill works with the urology and oncology teams to provide the best possible care after treatment.
The aim of the programme is to provide information and support for survivors to manage the physical, emotional, psychosocial, spiritual and financial challenges that can result from prostate cancer treatment, thus empowering men to maintain and improve their health in addition to facilitating them to access relevant services.
How the programme works
When treatment is completed patients can schedule an appointment with Sister Ferguson. From this visit patients will have a health needs assessment and form a comprehensive survivorship plan tailored to their individual needs. This appointment covers treatment side effects such as incontinence and erectile dysfunction but also looks beyond medical needs including for example, post treatment quality of life issues such as anxiety, relationships or returning to work. Our approach is based on a partnership between the patient and their health care team. The intention is that as a patient transitions to 'wellness', a treatment summary will be prepared for both themselves and their GP to detail their ongoing care requirements in the community. Men and their partners will also have a raised awareness and be signposted to local resources which are relevant to them.
All patients are offered the opportunity to attend the Living with and beyond prostate cancer course, which is being offered in collaboration between Maggie's and Newcastle upon Tyne NHS Foundation Trust in addition to the prostate cancer support group and other supportive care resources and sessions.
For patients reading this article who are interested in learning more about the survivorship programme please contact Sister Jill Ferguson at the contact details below.
For GP's reading this article: if you have any concerns regarding prostate cancer patients in the community who have ongoing issues after their prostate cancer diagnosis or treatment please refer these patients to Sister Ferguson.
Contact details – Sister Jill Ferguson
Email: jill.ferguson3@nuth.nhs.uk
Telephone: 0191 2248280
Address: Newcastle Urology, Freeman Hospital, Newcastle upon Tyne NE7 7DN
« Back to news